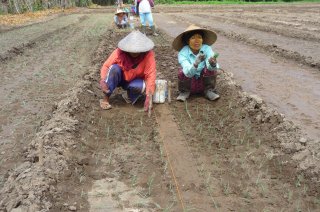 Results
Total cropland area amounts to 36 million ha in Indonesia (Table 1). An amount of about 900,000 ha cropland remains if TSS system requirements are considered by imposing stringent values on several soil and terrain characteristics (Fig. 1; Table 1).
When more relaxed values are used for these characteristics, the suitable cropland area increases to almost 5 million ha (Fig. 2; Table 1).
Maps showing the suitable areas, the climate variables, and soil and terrain characteristics for Indonesia are available via the links at the bottom.
Table 1: Potential suitable areas (ha) for TSS systems in the provinces of Indonesia. The second column refers to current cropland (Fritz et al. 2015), the third and fourth column give the results when additional constraints are combined with current cropland.
Constraints (1): Elevation < 500 m, Slope < 2%, 5.5 < pH-H2O <7.5, SOM <10% and Clay <35%.
Constraints (2): Elevation < 1000 m, Slope < 5%, 5.0 < pH-H2O <8.0, SOM <20% and Clay <35%.
Maps
Maps of selected climate variables:
Maps of selected soil and terrain variables:
Maps of suitable areas:
References